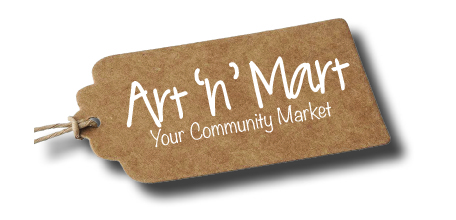 1. How many stalls are available & cost?
We have capacity for about 30 indoor stalls . Stalls are allocated at the sole discretion of Art 'n' Mart, the market organisers, following receipt of booking form and payment . At present the cost is £25 for a market stall. The months of October £30, November £35, December £35.
Any requests for stalls that exceed the allocated number for a particular event, will be placed on a waiting list and applicants will be informed no less than ONE week prior to the market date if any cancellations have been received.
2. Why do I have to fill out an 'Expression of Interest' form before I can book?
We want to ensure we have a good selection of traders so that each market event is treated on its own individual merits however all expressions of interest will be retained for future use.
3. How large is the stall area?
Stallholders will be provided with a table measuring at least 72"X 27" and you can use any available space around the stall, provided it does not interfere with other stallholders or block the circulation of visitors. Each table has to have a TABLE CLOTH that extends over the front of the table to the floor, so that items stored beneath the table are not in public view.
4. Can I share a table?
If you've got a friend who does arts, crafts or similar products and you'd like to share your stall with them that's fine, though both of you will need to fill out a separate 'Expression of Interest' and be accepted before we can grant you a table.
5. Can I bring lights to use on my stall?
You can bring electric lights, although we require these are PAT-tested in advance. If you are using extension cables ensure these don't become a trip hazard. Access to the electrical supply cannot be guaranteed.
6. Why are certain times of year more expensive?
Certain markets coincide with seasonal events, such as Christmas, so we expect you will sell more and there will be a greater demand for stalls. In addition we will be making additional advertising to promote these particular markets to the general public.
7. What are you doing to promote the market?
We will do everything we can within our capacity to ensure that the market is well publicised, including making sure it is included within the listings of local newspapers, newsletters, magazines, websites, as well as those of national markets and fair organisers and associations. We also have a flyer that will be widely distributed around local venues, such as hotels, shops, cafes and anywhere else we can think of!
We will also be using our own social media sites. Please LIKE & SHARE information you see on the market. THIS IS HOW SOCIAL MEDIA WORKS>
We also need your help in promoting the market, so please spread the word with our publicity postcard as much as you can!
If you have any ideas for how we could better promote the Community Market then contact ourselves, as per the details below.
Eddie McKinley. email: edimck@artnmart.co.uk